Our Brands
Today, Overhead Door Corporation has three operational divisions – Access Systems Division (Overhead Door, Wayne Dalton, and TODCO plus our services arm, Creative Door and Wayne Dalton Sales & Service), The Genie®Company, and Horton Pedestrian Systems (Horton Automatics, Flex by Horton, Won-Door plus our services arm of Door Services) – all heralded as industry leaders.
VEHICULAR ACCESS SOLUTIONS (Access Systems Division)
ELECTRONIC ACCESS TECHNOLOGIES (The Genie®Company)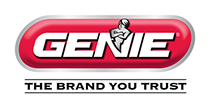 As part of Overhead Door Corporation, the Genie® brand continues to be one of America's best known and trusted brands of garage door openers. Innovations like Genie® Aladdin Connect® and BenchSentry® smart delivery lock box, continue to deliver safe, secure, and convenient solutions that offer our customers peace of mind and compatibility with all smart home ecosystems. Our customer focus is what has led to the success of The Genie Company and will continue to do so!
PEDESTRIAN ACCESS SOLUTIONS (Horton Pedestrian Systems)